Why Donald Trump's Newest White House Hire Has Everybody Googling Queen's 'Bohemian Rhapsody'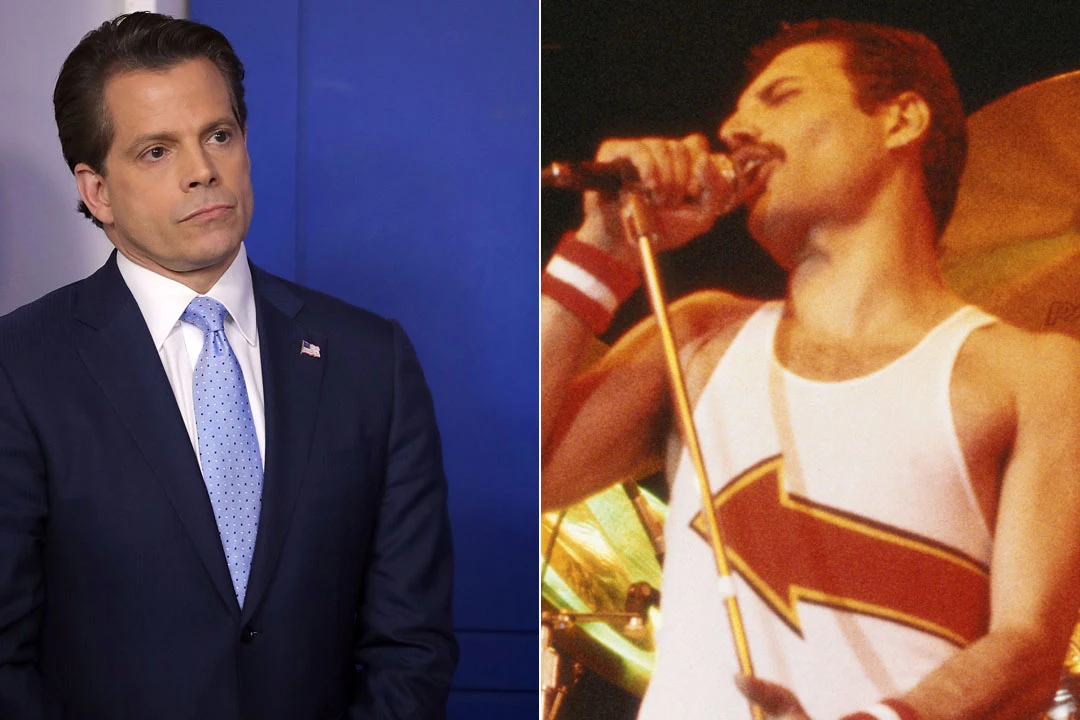 Yesterday, President Donald Trump appointed hedge fund manager Anthony Scaramucci as the new White House director of communications. The similarity of his surname to the word "scaramouch" resulted in a massive spike in people trying to decipher the middle section of Queen's "Bohemian Rhapsody."
As USA Today reported, Merriam-Webster noticed that searches for a definition of "scaramouch" rose 8,185 percent in the aftermath of the White House announcing Scaramucci's hire. The dictionary defined the word as "a stock character in the Italian commedia dell'arte that burlesques the Spanish don and is characterized by boastfulness and cowardliness" and acknowledged that the scaramouch's role is to beaten by the Harlequin. They also acknowledged that the word has evolved to refer to "a cowardly buffoon" or "rascal."
They continued with a nod to Queen's hit, saying, "Despite the energetic physical nature of the comedy of Harlequin and Scaramouch, there is no evidence that they performed the Spanish dance known as the fandango."
A few hours later, the dictionary's Twitter account tweeted, "We wish to apologize for feeding the 'Bohemian Rhapsody' earworm today. We offer this link as comfort and distraction," and linked to its own story about the etymology of "earworm."
We wish to apologize for feeding the Bohemian Rhapsody earworm today. We offer this link as comfort and distraction. https://t.co/grlru9Ps5W

— Merriam-Webster (@MerriamWebster) July 21, 2017
But others weren't as conciliatory, as Twitter exploded with Queen references. We've embedded a handful of them below.
Historically, Scaramucci is the first Communications Director who's also a lyric from Bohemian Rhapsody

— Tim Sniffen (@MisterSniffen) July 21, 2017
OK, @melissamccarthy. This is my plea to you: cold open with Bohemian Rhapsody. That is all. https://t.co/vIgPFw32bx

— Oliver Griswold (@originalgriz) July 21, 2017
Anyone else think Bohemian Rhapsody when you hear #Scaramucci scaramouche scaramouche will you do the fandango pic.twitter.com/mCXW7dqR64

— Ma'sOnTwittah (@MareBets) July 21, 2017
rt if every time you see Scaramucci's name you get Bohemian Rhapsody in your head

— vaccine haver (@kerrence) July 21, 2017
Thanks to the appointment of Anthony Scaramucci as Trump communications director, I now have Bohemian Rhapsody in my brain.

— Annabel Crabb (@annabelcrabb) July 22, 2017
I CANNOT KEEP TYPING SCARAMUCCI AND NOT HAVE BOHEMIAN RHAPSODY IN MY HEAD FOR THE REST OF MY LIFE.

— Shannon Watts (@shannonrwatts) July 21, 2017
Scaramouche!
Scaramouche!
Will you do the Fandango ?

Trump is ruining "Bohemian Rhapsody" now..WTF.

Didn't think that was even possible.

— Cassandra Hogan (@Hogan80Hogan) July 22, 2017
Reddit made a Bohemian Rhapsody/Scaramucci parody pic.twitter.com/T1wJ7adxzc

— Kelvin Gawley (@KelvinGawley) July 22, 2017
congratulations to everyone for being the first to think of the bohemian rhapsody joke
it is great every time

— Alexandra Petri (@petridishes) July 21, 2017
Coincidentally, "Bohemian Rhapsody" has been in the news recently for a different reason. It's expected that it will serve as the title for the long-awaited biopic about the life of Queen singer Freddie Mercury. It was recently announced that Bryan Singer, famous for the X-Men franchise, will direct and Rami Malek (Mr. Robot) will star in the lead role.
Queen Albums Ranked Worst to Best
Source:
Why Donald Trump's Newest White House Hire Has Everybody Googling Queen's 'Bohemian Rhapsody'