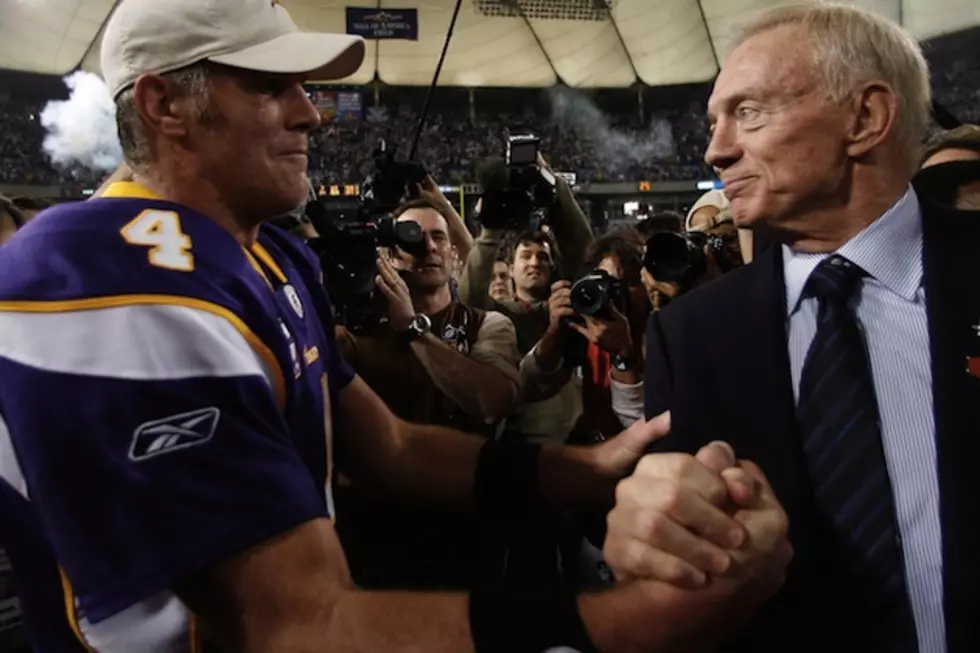 Brett Favre Wanted to Play for the Dallas Cowboys
Elsa, Getty Images
Former NFL quarterback Brett Favre had blue star-envy. The Super Bowl winning QB played the bulk of his career with the Green Bay Packers before spending time with the New York Jets and Minnesota Vikings prior to retiring in 2010. Despite the bitter end to his time in Green Bay, Favre will likely always be thought of as a Packer. However, Favre told an SMU Athletic Forum in Dallas over the weekend that he always wanted to play for the Cowboys.
"I grew up a Dallas Cowboys fan," Favre said. "I loved Roger Staubach. That was back when teams kept the same players on the roster for a long time. Drew Pearson, Randy White, Charlie Waters, Danny White, Robert Newhouse, Tony Dorsett, Billy Joe DuPree, I could go just on and on. I always dreamed of playing for the Cowboys, playing in the Super Bowl."
We're sure the fans in Green Bay, many of whom were just getting past watching Favre play for the rival Vikings, loved to hear that Favre was a lifelong fan of another of the Packers' most hated rivals. Favre's best Green Bay teams might have played in more Super Bowls had it not been for Dallas' dominant 1990s teams. Maybe his childhood fandom got into his head?
Considering Favre's protracted decision-making process on retirement and Cowboys' owner Jerry Jones penchant for drama, it still wouldn't be surprising to see Favre sign on as a back-up QB in Dallas one of these years.
More From Super Talk 1270