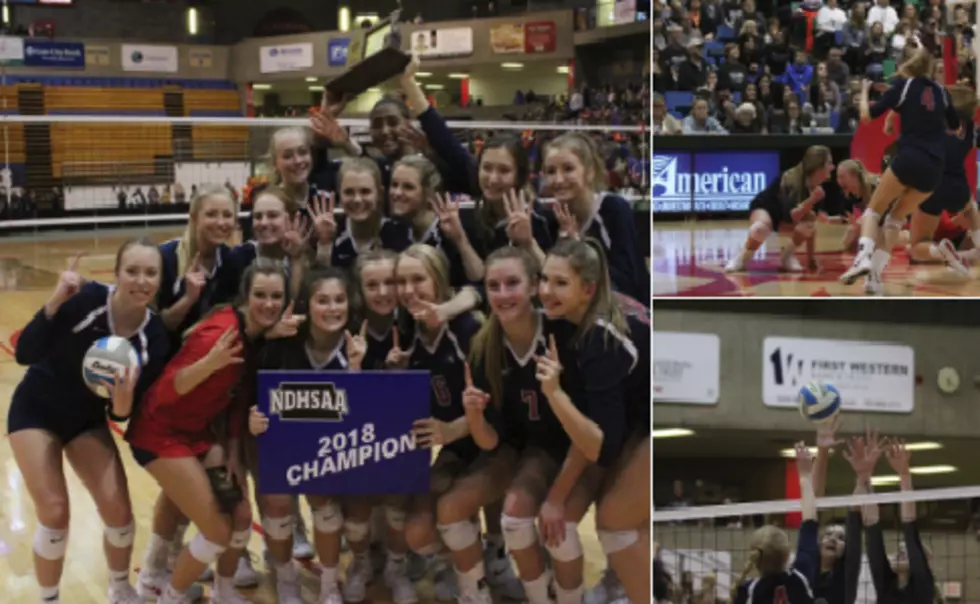 Century Wins Fourth Consecutive Volleyball Class A State Title
Twitter ScreenGrab
Saturday night, Century defeated Mandan 3-1 (25-21, 25-23, 24-26, 25-18) at the Minot State Dome to cap off their four-peat.
Last year, Century's state championship put them with the company of LaMoure-Litchville/Marion and Fargo North (1994-96) as the only programs in history to win three straight titles. Century is now the first high school in NDHSAA history to win four straight titles. The Patriots had previously beaten Fargo Shanley (2015), Bismarck High (2016) and Jamestown (2017) in the past three years to capture state titles. Overall, it's their seventh state title in history (also in 1984, 2008, 2012).
The Patriots were led by junior Lauren Ware with 27 kills and sophomore Julia Fitterer with 13 kills and 19 digs. Mandan was led by senior Megan Zander with 11 kills for the Braves.
In the seventh-place game, Bismarck defeated Jamestown 3-2 (25-16, 18-25, 25-23, 15-25, 15-12).
Congratulations to Century, Mandan, and Bismarck on their great seasons!
More From Super Talk 1270