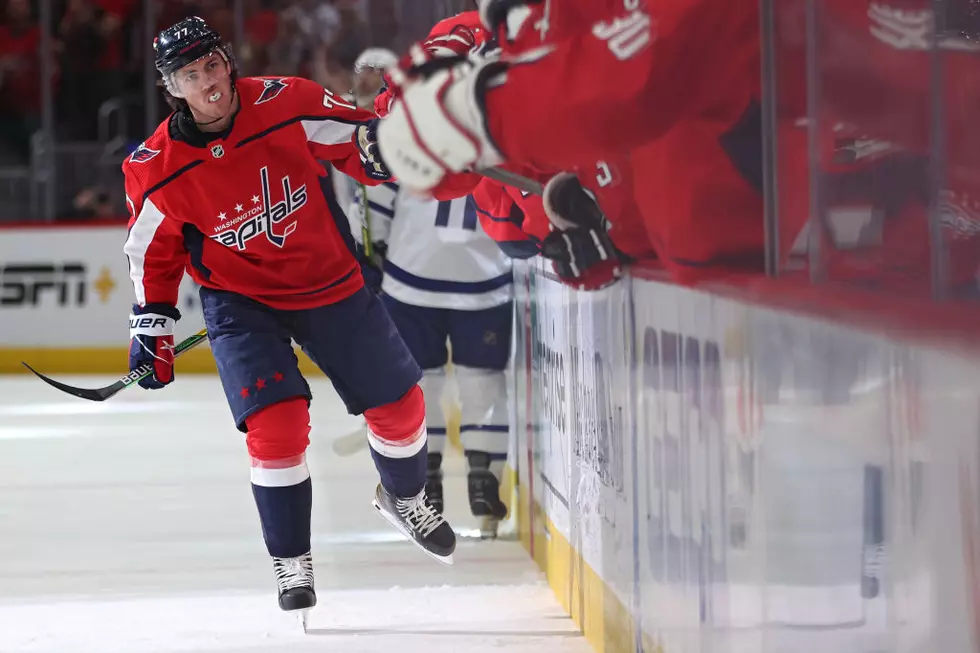 My Favorite U Of NoDak Hockey Player Just Had His Number retired
Patrick Smith/Getty Images
If you were fortunate enough to get to see TJ Oshie play hockey at the University of North Dakota you know how special of a player he was.  The Ralph was "rockin" every time Toews, Duncan, and Oshie hit the ice.  What a line that was.  Two NHL players in Jonathan Toews and Tj Oshie, and a Hobey Baker winner in Ryan Duncan.  I saw an interview with Duncan on TV one time where the recipient of the Hobey Baker Award for college hockey's best player said, "I'm not even the best player on my line, let alone the country."
Oshie's line in college was known as the DOT line.  "Duncan, Oshie, and Toews".   Ryan Duncan eventually went overseas to play professional hockey.  Jonathan Toews has been a standout in the NHL for the Chicago Blackhawks.  TJ Oshie has played his entire NHL career for two teams.  He started with the St. Louis Blues in 2008 and in 2015 to the present has played for the Washington Capitols.  "Osh" who he's known as by his teammates and friends has had a solid career amassing 271 goals, and 364 assists for 635 points to date.
I got to know TJ a little bit back when I was doing radio in Grand Forks, North Dakota.  He was one of the first UND hockey players my son Hunter met.  TJ made a point to bring my kid his latest autographed hockey card for a while, while he was in town for his annual charity golf tournament.  I know TJ had an impact on my son's hockey career who went on to play for Bismarck High School.  Here is TJ, myself and my very young son Hunter at the time.
Not too shabby for the kid who played his high school hockey in Warroad, Minnesota.  His old high school recently retired his high school jersey number 19 and put on quite a ceremony in the legendary Warroad Gardens.  Here are some pictures from that event courtesy of Carey Eades, another UND hockey legend who coached Oshie at Warroad High School.  TJ helped Warroad to win the 2003 and 2005 Minnesota Class A State Championships.  TJ only lost 4 games in 3 high school seasons.  Enjoy the pictures.
---
Most Famous Athletes To Go Pro In North Dakota
ALSO: Former Minnesota Twins All-Star's Home for Sale - Complete With Brewery
More From Super Talk 1270