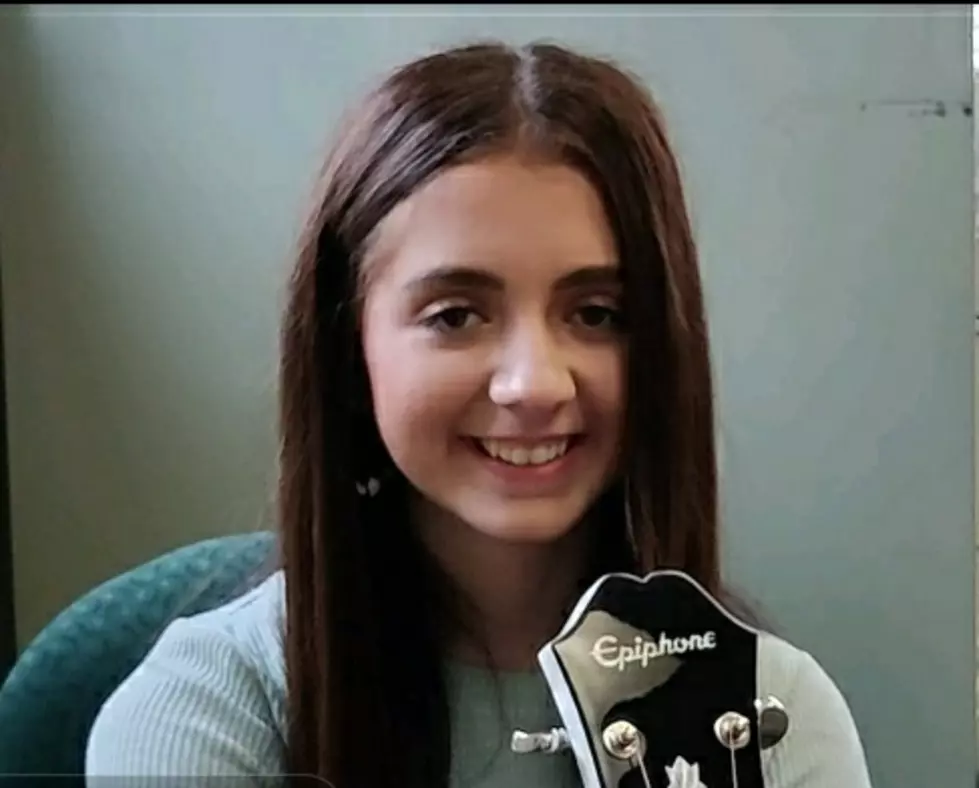 Bismarck's Savanah Benz – A Rising Humble Superstar
Bromo
One million percent humble and down-to-earth
For a half hour or so on a  Thursday afternoon about 3 months ago, I had a chance to sit down with a future star. Her name is Savanah Benz. She and her mom Jami came by our radio station in Mandan, my goal was simple: To get a feel of what it's like to start out in a highly competitive field - the country music industry. Alongside Savanah rested her faithful guitar, the one she brings up on stage to play songs of her very own. Think about the confidence one must have to be able to do that and pursue a future career. This article I am writing, in my opinion, doesn't strictly belong on US 103.3's ( country ) social media pages, NO, this is about a local performer in the early stages of following through with her passion - entertaining people for a living. There is nothing more exciting and rewarding than that, except for the fact that it is HARD work.
Every dream starts with people that inspire you
Savanah has many artists that have inspired her - Daniel Bradbury, Loretta Lynn, Miranda Lambert, Alan Jackson, and Emily Ann Roberts. Future stars are fueled by role models that carry personality and professional traits that one can hope to emulate. Savanah is quickly developing her own style, when she is on stage there is an air of innocence, charm, and a boatload of talent. At this point in her career, it can be pretty demanding, networking herself without help from a manager is extra work ( although Jami is pretty remarkable at being her MOM-AGER ) -  Savanah, at just 19 years old is the youngest of three kids. She has written 20 songs and one of them you can listen to on YouTube and Spotify - The first song she ever wrote was last year's "Without You" - get this, she taught herself how to play the guitar.
Starting out at just 9 years old
Savanah like many others became motivated to start singing after watching 'The Voice' - winner Daniel Bradbury back in 2013. One of her biggest thrills was years later while singing the National Anthem at the ND Country Fest in New Salem, there in the crowd was Daniel Bradbury, who paid her the ultimate compliment backstage by telling her congratulations on her performance. Last year Savanah opened for Brandon Jones at the Bismarck Event Center, and her mom Jami was of course with her every step of the way. "Watching her perform is my stress relief..."
Her true test
She passed it with flying colors. In my opinion, the "true test" of any budding superstar in the making is how they react to their soaring fame, when approached for an autograph Savanah instantly felt honored, humbled, and grateful, for she remembered a personal video message from Gwen Sebastin ( a North Dakota native that now sings back up vocals for Miranda Lambert ) "The number one thing, always stay pure to yourself..." - so the reality is this, she is getting used to having so many people acknowledge her talents and she is graciously returning autographs with respect and understanding a true sense of one day being someone's idol is all a part of reaching success - Savanah Benz is clearly on her way. We last had a chance to visit with her in person when she came by Legacy High School to perform the National Anthem in front of a "Celebrate My Ride" car show crowd. The weather was warm, and the response to her from the crowd was even hotter. I remember hearing a woman say how angelic her voice sounded.
Now check this out:
WOW!
I will close with this, Savanah is about one of the nicest people I've met, and in the world of entertainment, when a performer starts to gain momentum and fame it's sometimes very easy to lose yourself and become fake  -  I can tell you this with 100% certainty that will never happen to her.
ONE LAST THING.....THIS
Sneak Peek Preview of TENNESSEE DREAMIN'
Officially 1 week away from release day! Presave now with the link below!
---
LOOK: See how much gasoline cost the year you started driving
To find out more about how has the price of gas changed throughout the years, Stacker ran the numbers on the cost of a gallon of gasoline for each of the last 84 years. Using
data from the Bureau of Labor Statistics
(released in April 2020), we analyzed the average price for a gallon of unleaded regular gasoline from 1976 to 2020 along with the Consumer Price Index (CPI) for unleaded regular gasoline from 1937 to 1976, including the absolute and inflation-adjusted prices for each year.
Read on to explore the cost of gas over time and rediscover just how much a gallon was when you first started driving.
More From Super Talk 1270