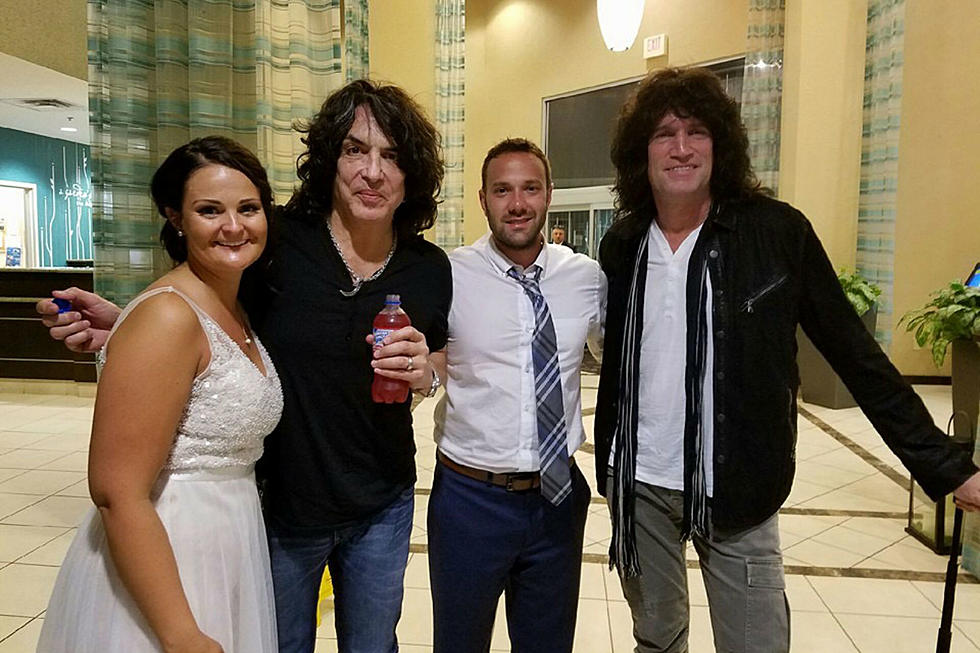 Minnesota Couple Gets Wedding Surprise Courtesy of Kiss
Bradley Thomas
Following their concert at the North Dakota State Fair, Kiss made their way to the next stop on their tour and surprised a newly-married couple along the way.
Bradley and Margaret Thomas were married Saturday, July 30th, in Mankato, Minnesota.
While out celebrating their nuptials Saturday night, they ran into a couple of guys who had just headlined the North Dakota State Fair a few hours earlier: Paul Stanley and Tommy Thayer of Kiss.
So, how did the lucky couple meet Kiss? Bradley Thomas explains:
We were waiting in the lobby for the elevator and I noticed a guy walk in wearing a black bathrobe, sunglasses, and a black towel over his head. Behind him came a couple of security guards and two other guys in all black.

I mentioned they must be in a rock band and we all kinda laughed. A few minutes later, they walked over to the elevators and Margaret said 'Kiss?' Paul Stanley replied, 'Yeaaaaaah,' and gave us the rock and roll sign. He asked who just got married and said 'Congrats!'

We asked if we could get a quick picture and both Stanley and Tommy Thayer obliged. Gene Simmons remained towel clad and headed straight for the elevator. What a way to end our wedding night!
Kiss is scheduled to perform at the Verizon Wireless Center in Mankato on Monday, August 1st.
How's that for a wedding gift?!
More From Super Talk 1270