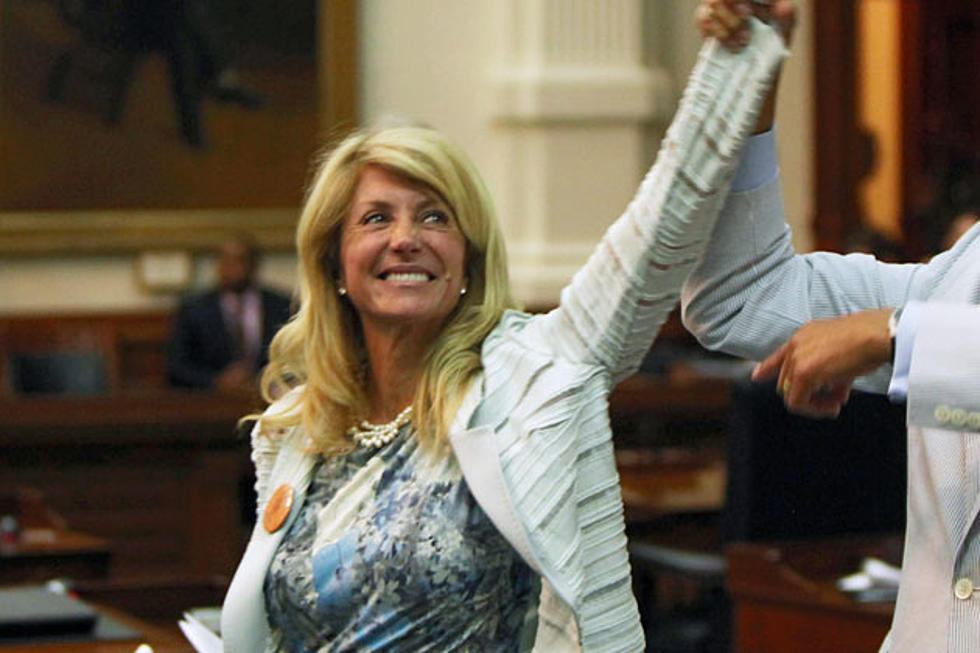 Meet Wendy Davis, Filibusterer Extraordinaire and Internet Hero
Erich Schlegel, Getty Images
Yesterday something pretty epic happened in the Texas state legislature. We know, already it is hard for you to believe, but we swear it's true. Senator Wendy Davis attempted a 13-hour filibuster to keep one of the most extreme anti-abortion bills in the United States from being voted into law. And this wasn't your average, everyday read-from-the-phone book filibuster, this was a Texas filibuster.
In Texas a person attempting a filibuster cannot sit, eat, drink, take a bathroom break or even lean against a table, so it was pretty intense. The filibuster was livestreaming, and began to pick up steam, with #standwithwendy trending on Twitter. Even Lil B got involved.
As the midnight deadline to vote for the bill approached, the GOP attempted to break the filibuster by declaring a third point of order against Davis. And here's where things got really crazy.
Desperate to keep a vote from happening, Texas democrats banded together and began stalling for time. They did a pretty good job of it to, debating parliamentary procedure and the "germane-ness" of the filibuster. They kept the vote at bay until 11:45, at which point Senator Leticia Van de Putte asked a question that got a response she probably wasn't expecting:
Protesters who had filled the capitol building erupting into cheers and shouting...and kept it up until well after midnight, killing the vote. Of course, the GOP tried to pass a vote, but it was too late. And now Wendy Davis is a hero, both in real life, and on the internet, where everybody is in lurv with her and her bright pink running shoes:
Wendy tweeted thanks for all the support. No, Wendy....thank you.
More From Super Talk 1270