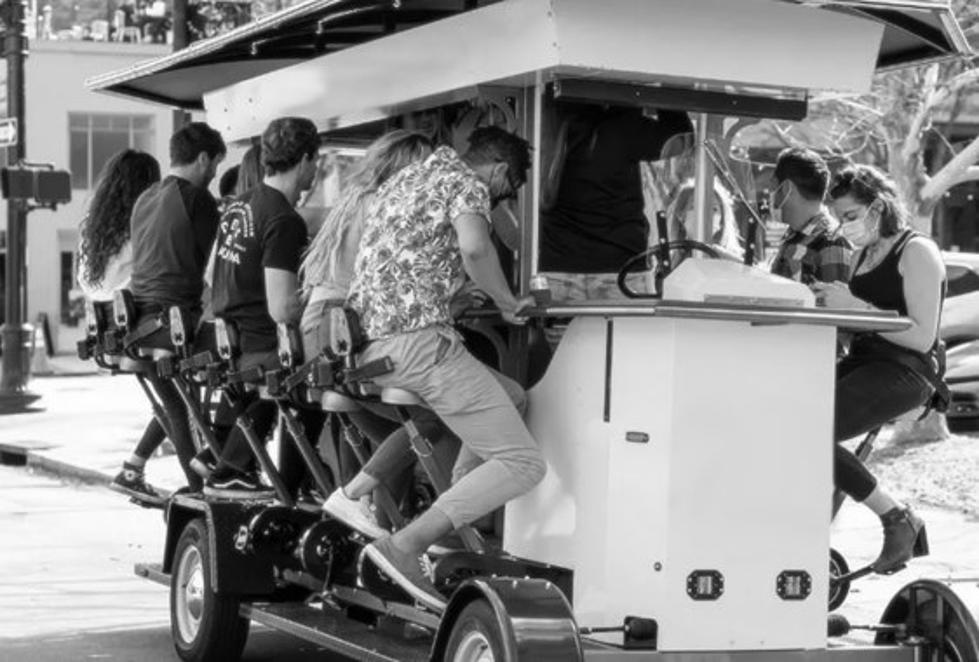 Could This Come To Bismarck/Mandan This Spring?
Fargo Pedal Tour
Love this, what a genius idea, contraption, vehicle fueled by desire, heart, and leg muscle
Take a second and stare at the cover photo - imagine yourself on one of these, a warm lazy Saturday afternoon with temps in the high 80s - pedaling through the heart of downtown Bismarck. I say we petition for one of these "Human centipedes" bicycles. Fargo, North Dakota is getting people pretty excited about this in the spring of this year. From what I have heard about this, I am left with just a few questions I'll pass by you in a minute or two.
Let's explore what this wild-looking thing is all about
Thanks to Fargo Pedal Tours for being creative enough to develop this awesome idea. According to fargounderground.com "Fargo Pedal Tours is set to offer open-air pedal trolly tours starting in the spring of 2023. The tour bikes will offer a 90-minute 'Broadway Tour' with stops at 2-3 local establishments. The bikes can seat groups of 8-14 people and will be available for private tours. On each bike, there are 14 pedal seats and 2 riding seats" Here is where my questions kick in...
...So will there be a "Captain" or "Pilot" to this road vehicle?
Yes, there will be, he or she will be your "Tour Pilot" - someone who is well-schooled in the knowledge of downtown Fargo ( and Bismarck, if it comes out here ) - and I would assume the same person would be in charge of steering this thing in the right direction ( which might come in handy don't you think? ) - in case you were wondering "The bike is Department of Transportation approved, with headlights, a horn, turn signals, and an illuminated license plate".  valleynewslive.com added. This bike could be on the streets as early as March.
"We hope to add a fun, new experience to downtown, where alcohol is optional"
This was mentioned by one of the owners Thomas Stromme. I found no answer to my last question - "What if someone slacks off, and refuses to peddle? Can you kick this person off?" Oh well, only time will tell.
---
LOOK: These Are the 50 biggest retailers in America
More From Super Talk 1270