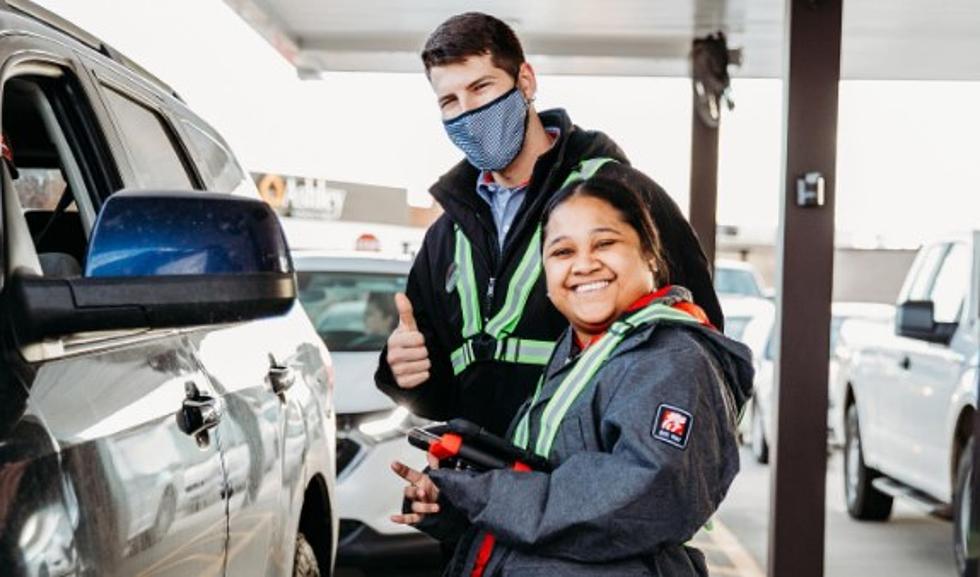 Just Be "North Dakota Nice" At Bismarck's Chick-Fil-A
Chick-Fil-A Facebook
Did you expect anything less when Bismarck/Mandan heard the news?
We all heard about the news and it spread like wildfire. There was literally dancing in the Bismarck/Mandan streets when it was announced that the Famous Chick-Fil-A restaurant was coming to the Kirkwood Mall. This was more than a year ago when people started dreaming of the day they could walk in and experience something new here in town. But come on, did you really think it would be that easy, to park your car and just leisurely stroll in and out in like ten minutes tops?
The big day rolled around nearly two weeks ago and Chick-Fil-A was prepared, in every way possible
This isn't the first time this company launched a restaurant, especially in a prime location like at a parking lot of a shopping mall. It was a no-brainer for the restaurant to know that the crowds would be huge, inside, and outside at the drive-thru. In order to avoid chaos, they hired traffic patrols from the Bismarck Police Department. Skilled in the arts of guiding people safely, this was the perfect way to maintain order. So far everything has worked out great, "No major issues [so far]. That's what we are trying to avoid are collisions and people getting hit by cars and causing problems like that. That was our ultimate goal to avoid traffic collisions," That's what Bismarck Police Department traffic commander Jeff Solemsaas had to say, according to KFYR TV.
Now it appears we ( Bismarck/Mandan residents ) are on our own
At this point, there are no more future patrols planned for traffic issues. So we are all on our "North Dakota Nice" behavior. Try and stay patient when you are in line. if you are in your car, maybe listen to some peaceful calm mediation tapes. Whatever works!
---
LOOK: Here are the best lake towns to live in
Many of the included towns jump out at the casual observer as popular summer-rental spots--the Ozarks' Branson, Missouri, or Arizona's Lake Havasu--it might surprise you to dive deeper into some quality-of-life offerings beyond the beach and vacation homes. You'll likely pick up some knowledge from a wide range of Americana: one of the last remaining 1950s-style drive-ins in the Midwest; a Florida town that started as a Civil War veteran retirement area; an island boasting some of the country's top public schools and wealth-earners right in the middle of a lake between Seattle and Bellevue; and even a California town containing much more than Johnny Cash's prison blues.
LOOK: Best Beers From Every State
To find the best beer in each state and Washington D.C., Stacker
analyzed January 2020 data from BeerAdvocate
, a website that gathers user scores for beer in real-time. BeerAdvocate makes its determinations by compiling consumer ratings for all 50 states and Washington D.C. and applying a weighted rank to each. The weighted rank pulls the beer toward the list's average based on the number of ratings it has and aims to allow lesser-known beers to increase in rank. Only beers with at least 10 rankings to be considered; we took it a step further to only include beers with at least 100 user rankings in our gallery. Keep reading to find out what the best beer is in each of the 50 states and Washington D.C.
More From Super Talk 1270