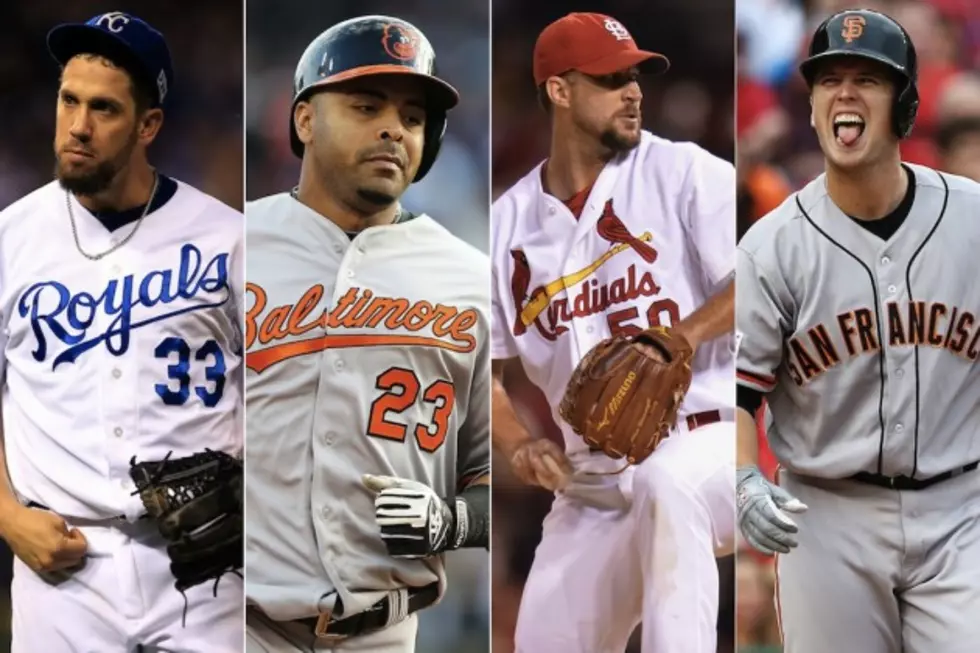 Which Teams Are World Series-Bound? — 2014 League Championship Series Preview
Getty Images
Two familiar franchises battle in the National League Championship Series, and two upstart teams clash in the American League Championship Series. Here's a preview of both matchups:
Baltimore Orioles vs. Kansas City Royals
How They Got Here: The American League East champion Orioles swept the Detroit Tigers in three games in the ALDS. Baltimore used timely hitting to beat three Cy Young winners. After beating Oakland in the AL wild card game, Kansas City swept the Los Angeles Angels in three straight games, limiting the Halos' big bats to just six runs over 31 innings.

Season Series:Kansas City edged Baltimore, 4-3, including a split of a four-game series at Camden Yards. Whichever team wins the pennant will advance to the World Series for the first time in at least 29 years. The Orioles and Royals each played — and won — their last Fall Classic in 1983 and 1985, respectively.
Why The Orioles May Win: Have faith in big bats and manager Buck Showalter. Led by Nelson Cruz's 40 dingers, the Orioles slugged an MLB-high 211 home runs in 2014. The Royals staff likes to challenge hitters on all counts. When the O's hitters are up to the challenge, they can score a lot of runs very quickly. Additionally, Baltimore manager Buck Showalter has been incredible this year. He figures to exploit matchups and Kansas City's aggressiveness to his team's benefit.
Why The Royals May Win: Good pitching stops good hitting. The Kansas City staff, led by nasty James Shields and young Yordano Ventura, doesn't have a weak link. Every pitcher is capable of throwing well at any time — and the Orioles are prone to not making enough contact for long stretches. If the Royals can silence the Baltimore bats, the KC lineup is more than capable of manufacturing a few runs per game.
Key To The Series: If either bullpen cracks, the other team will win. Kansas City has Kelvin Herrera, Wade Davis and Greg Holland, while Baltimore counters with Darren O'Day, Andrew Miller and Zach Britton.
Schedule:
Game 1: Friday, Oct. 10 at Baltimore, 8:07 p.m. (ET)
Game 2: Saturday, Oct. 11 at Baltimore, 4:07 p.m. (ET)
Game 3: Monday, Oct. 13 at Kansas City, 8:07 p.m. (ET)
Game 4: Tuesday, Oct. 14 at Kansas City, 8:07 p.m. (ET)
Game 5: Wednesday, Oct. 15 at Kansas City, 4:07 p.m. (ET) (if necessary)
Game 6: Friday, Oct. 17 at Baltimore, 8:07 p.m. (ET) (if necessary)
Game 7: Saturday, Oct. 18 at Baltimore, 8:07 p.m. (ET) (if necessary)
All games on TBS-TV
St. Louis Cardinals vs. San Francisco Giants
How They Got Here:The National League Central champion Cardinals topped the Los Angeles Dodgers, three-games-to-one, in the NLDS to advance to their fourth straight NLCS. St. Louis played in two of the last three World Series (2011 and 2013), winning in 2011. After shutting out Pittsburgh in the wild-card game, the Giants beat the favored Washington Nationals, three-games-to-one, to advance to their third NLCS in five years. San Francisco won the World Series in 2010 and 2012.
Season Series: San Francisco beat St. Louis in four of the seven games the teams played in 2014.
Why the Cardinals May Win: The names change, but the system gets the job done in St. Louis. Other than perhaps Yadier Molina, the Cardinals don't have a superstar, but everyone on the roster finds a way to contribute. Moreover, the pitching staff, led by Adam Wainwright, seems to pitch better in the postseason.
Why The Giants May Win: Every two years, San Francisco makes a run. This year, Buster Posey, Hunter Pence and Pablo Sandoval are getting more help from wild cards like Brandon Belt and Joe Panik. The bullpen is absolutely filthy with a legion of hurlers who can shut down the opposition.
Key To The Series: If Giants starters Madison Bumgarner, Ryan Vogelsong and Jake Peavy can keep the Cardinals hitters from rallies, they should be able to get the ball to their bullpen. If St. Louis chases the SF starters early, the Bay Area may have to wait until 2016 for its next chance at the World Series.
Schedule:
Game 1: Saturday, Oct. 11 at St. Louis, 8:07 p.m. (ET) on Fox
Game 2: Sunday, Oct. 12 at St. Louis, 8:07 p.m. (ET) on Fox Sports 1
Game 3: Tuesday, Oct. 14 at San Francisco, 4:07 p.m. (ET) on Fox Sports 1
Game 4: Wednesday, Oct. 15 at San Francisco, 8:07 p.m. (ET) on Fox Sports 1
Game 5: Thursday, Oct. 16 at San Francisco, 8:07 p.m. (ET) (if necessary) on Fox Sports 1
Game 6: Saturday, Oct. 18 at St. Louis, 4:07 p.m. (ET) (if necessary) on Fox
Game 7: Sunday, Oct. 19 at St. Louis, 7:37 p.m. (ET) (if necessary) on Fox Sports 1
More From Super Talk 1270