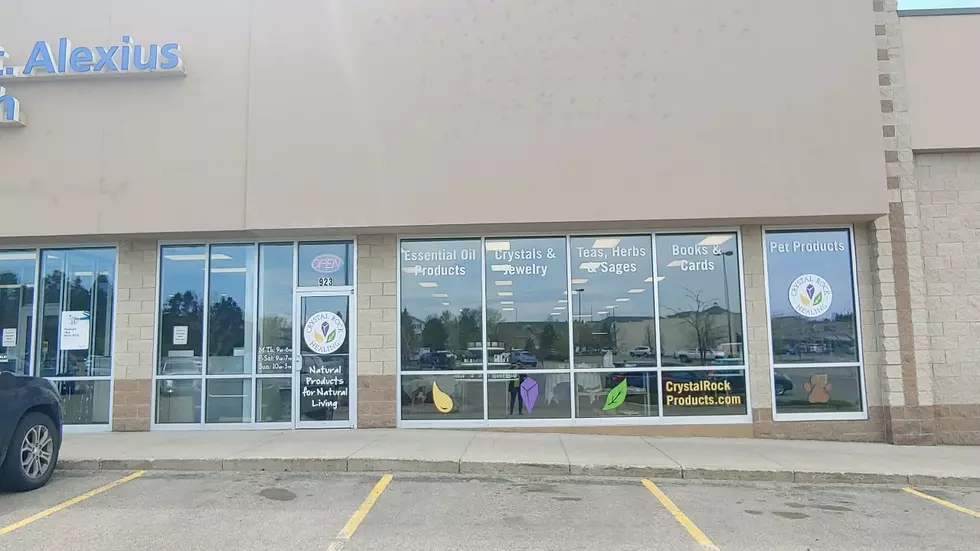 The Future Is Crystal Clear: New Opportunities Open Up For Bismarck Business
Cindy Schmitz
A New Horizon
Crystal Rock Healing made a Facebook post the other day, announcing the store's move to a new location.
According to an earlier Facebook post, the business says they decided to move so they could have more space for customers to shop around in, and to open up opportunities for classes to take place and even healers and readers to come in.
So, it's more than a store. It's a place for people to come together, and has been operating in Bismarck since 2013.
New Bismarck Location:
Previously located at 716 Bowen Ave., Bismarck, Crystal Rock Healing is now operating out of Pinehurst Square East. That's at 923 W. Interstate Ave., Bismarck.
I spoke to the owner, Cindy Schmitz, she says they moved everything in one day, and had to move THOUSANDS of rocks.
Here you will find sage, bath and body products, essential oils, and other products like jewelry for sale
Schmitz says they also plan to have a "Grand Re-opening" June 18th. They plan to have readers and healers present before the event.
Crystal Healing Rocks In Bismarck
What is Crystal Healing?
Well, I'm not very well-versed in the matter, so I looked it up. According to Harper's Bazaar, crystals do a lot for mental wellbeing and tranquility. It's said they can even be used for pain relief.
"People are surprised when they have a particular rock or stone jewelry item on, how much better they feel when they are near," said Schmitz.
Energies
Something else you will find when researching the uses and benefits of crystals, you will find a lot of mention of "Energies." It's believed that certain crystals bring forth different energies, and it could be good to have some in your house for varying reasons.
Harper's Bazaar also claims that many celebrities use crystals. They name Victoria Beckham and Naomi Campbell as just a couple of the many.
Locations
Crystal Healing might seem to be sort of niche, but this is something that is getting to be more and more popular and mainstream. Bismarck isn't the only city with a Crystal Healing location. Crystal Healings also has locations in Fargo, Sioux Falls, and White Bear Lake Minnesota.
---
10 Ways To Have A Staycation in Bismarck-Mandan
10 Popular TV Shows That Were Almost Cancelled Too Soon
More From Super Talk 1270