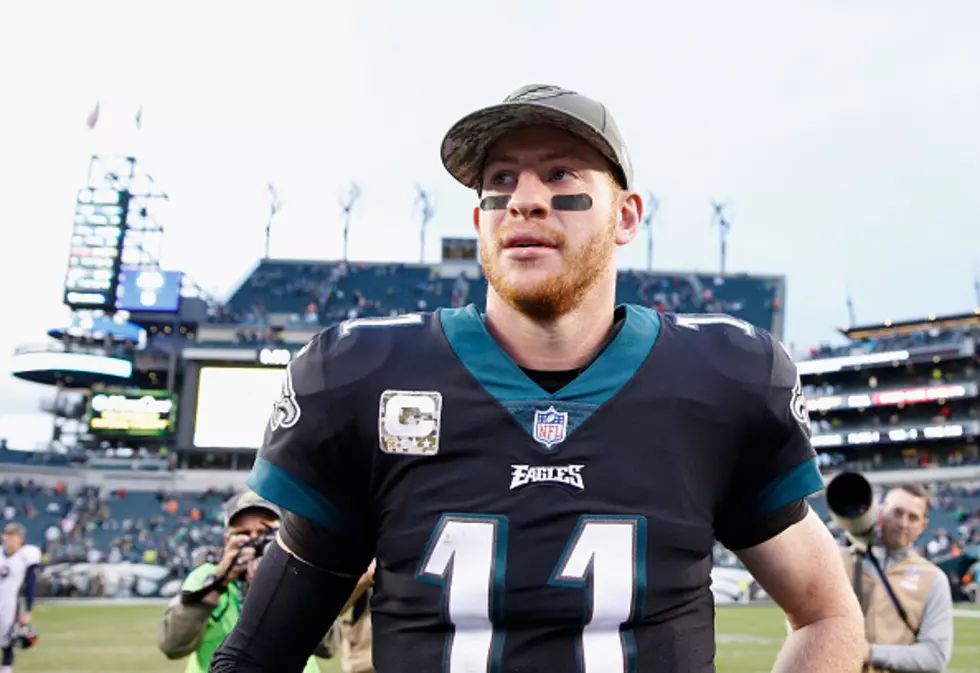 Wentz Throws 4 TDs as Eagles Trounce Broncos
Getty Images
Carson Wentz did what Carson Wentz does and added to his league leading touchdown pass total with four more as the Philadelphia Eagles beat the Denver Broncos, 51-23.
Wentz went 15 of 27 for 199 yards and 4 touchdown passes before not even playing in the fourth quarter as the Eagles routed the Broncos.
After the Broncos went ahead 3-0 on a field goal on their opening drive, the Eagles would quickly respond with their ensuing drive. Wentz rolled out and hit Alshon Jeffery on a fantastic touch pass in stride from 32 yards out for a touchdown to make it 7-3. The Eagles would never trail after that.
The Eagles would add a 45-yard field goal on their next possession before Brock Osweiler was picked off by Patrick Robinson and returned to the Denver 15 yard line. Two plays later, Wentz threw a screen pass to Corey Clement and he took it the rest of the way to make it 17-3.
In the second quarter, a long Broncos punt return put them in field goal range to make it 17-6 before Wentz took the Eagles to the Denver 27-yard line and then found tight end Trey Burton on a back shoulder throw to end zone to make it a 24-6 lead.
The Broncos would add another field goal before Jay Ajayi, just acquired earlier in the week from the Miami Dolphins, would spring free for a 46-yard touchdown run as he stretched across the goal line at the end to make it 31-9. That was the score as both teams entered the half.
The Eagles would get the ball to start the second half and a couple receptions from Jeffery put the Eagles in position to get close the end zone. Wentz would hit Nelson Agholor on a fourth down to keep get the Eagles to a first and goal. Clement would score on a run from two yards out to make it a 38-9 score as the rout was on.
After Rodney McLeod Jr. intercepted an Osweiler pass to bring it back 50 yards to the Denver 11-yard line, Wentz hit Jeffery again on a 4-yard touchdown score to make it 44-9 (the extra point was missed).
Nick Foles came in relief of Wentz as the game was well in-hand.
Jay Ajayi had 8 carries for 77 yards with the touchdown in his Eagles debut.
The Eagles (8-1) will be on a bye next week and play next in Dallas against the Cowboys on Sunday, November 19th.
More From Super Talk 1270