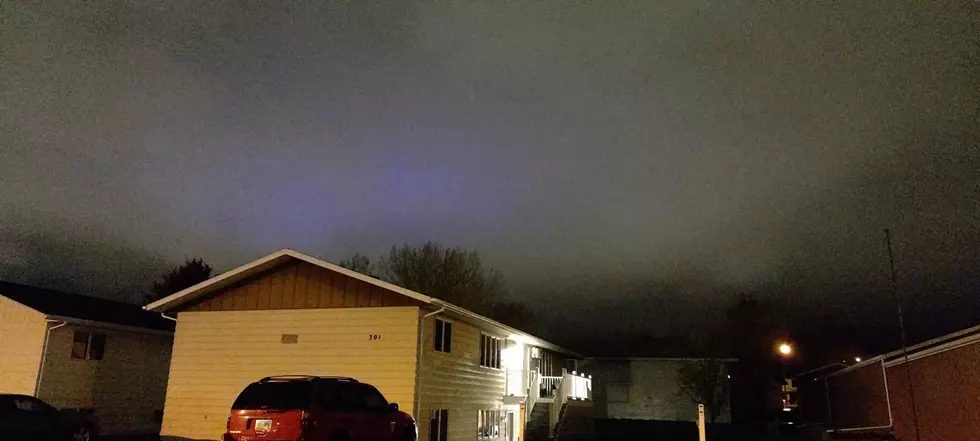 "North Dakota Nice" ( Unidentified Nice As Well )
Benjamin Achtenberg Bismarck People Reporting News Facebook
** This was about a month ago, and I still find myself looking at our skies every night**
I went "surfing" again this Sunday morning
One of my favorite places to visit is always Bismarck People Reporting News Group Facebook page - just checking in to see what is happening and one of the first posts I spotted was from Benjamin Achtenberg ( this post was time-stamped at 12:47 pm yesterday ) - a series of pictures and a simple question from "Anybody notice a strange glow in the sky couple nights ago at around 1 in the morning"  I have to admit it caught my attention right away. Here are some of his pics:
Now take a couple of seconds and make an interpretation of what you think it could be
I'm sure by now you know how the Bismarck People Reporting News Group Facebook page - you can guess that Ben's question drew a ton of replies - some of them with basic answers attempting to explain the lights, and of course, this group wouldn't be the group that it is without sarcastic comments - some quick examples for you: "Satellites...Elon Musk"..."Larks game went into extra innings"..."Aliens". Many people wrote in that the lights came from Gate City Bank. One snark comment called everyone out by saying "it never ceases to amaze me how common sense evades this group"  - to that one person I say did you ever think that people are just having fun contributing with their comments? No mean hurtful replies were delivered to Ben's post, and I think that's awesome.
Now it's my turn....
....SO what the heck was this four months ago?
Bring on your comments....:)
---
LOOK: Food history from the year you were born
From product innovations to major recalls,
Stacker
researched what happened in food history every year since 1921, according to news and government sources.
More From Super Talk 1270